I met The Griz about 15 years ago.  I was up at Frankies deer hunting and The Griz was there.  The Griz has a face you'll remember and a personality you can't forget. In 2017 I helped him crank up a new website for his guide service on the Mississippi River.  www.FishWithGriz.com I learned a lot about The Griz from building the website.
The Griz was inducted into The Fishing Hall of Fame in 2007.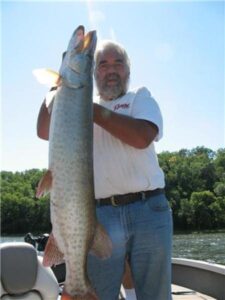 Here are some words from that website.
Born in 1942 in St. Paul's east side, his parents began taking him along on their fishing trips when he was just three-months old. "They placed me in a picnic basket and set it in the boat," says Griz. "My ma and dad fished back then as much as I do now."
Though Griz has been guiding others his entire life, he didn't start getting paid for it until about 35 years ago. In the early years, Griz's business card said, "Have Boat, Will Travel" and he typically slept in his truck while guiding on hundreds of lakes. "When I'd go on the road people would make fun of my "plastic pants" because they'd get so shiny from all the fish slime," admits Griz. Today, Griz spends 275-300 days per year fishing. "The rest of the time I'm hunting" he says.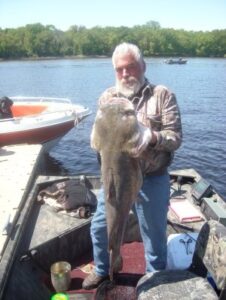 Reflecting on his upbringing, Griz offers this bit of advice to anglers; "My dad taught me about fishing when I was younger, and I taught him when he was older. Good anglers change with the times and my dad was sometimes stuck in his angling ways. Being flexible on the water is what puts more fish in the boat."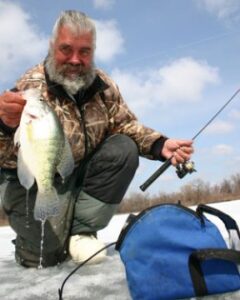 The Griz has been a frequent subject of the StarTribune's Dennise Anderson's outdoor column.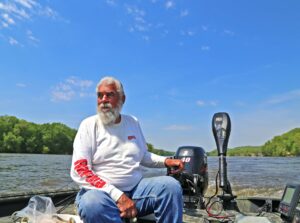 "These fish are constantly moving in spring," Griz said. "So, if you find them in one place one day, they might be there the next day. Or they might be as far upstream as the dam."
A river fishing guide, Griz like others in his trade was grounded last spring by Gov. Tim Walz, who decreed that these professionals were unessential to Minnesota life. Flapdoodle is what Huck Finn called this particular kind of tomfoolery, and he wasn't far off.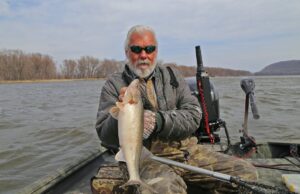 On Thursday, Dick "Griz'' Grzywinski and I, along with my son Cole, sat atop waters that form the confluence of the St. Croix and Mississippi rivers, targeting some of these transient fish.
At times, the three of us were on the Mississippi, dangling half-ounce jigs in about 34 feet of water, while moments before or after, we were on the St. Croix, angling similarly. Near us, a dozen or so other boats also bobbed between the two rivers, most, like us, seeking walleyes that had migrated up the Mississippi.

The subject arose last week when I walked into Frankie's Live Bait in Chisago. The date was Dec. 14, and in another year, the place would have been hopping, with customers lined three deep with cash in one hand and suckers, shiners and waxies in the other.
Carl Bierman of Wyoming, Minn., top, fished in about 7 feet of water on Chisago Lake to catch a fine bluegill. Meanwhile, Dick "Griz'' Grzywinski of St. Paul pulled a sled full of fishing gear onto Chisago Lake last week, where between 5 and 7 inches of ice was found.