50 years went by very fast.  Going through them a year at a time it seemed the year would never end.  Looking back, they went by too soon.  It has been quite a run from Northeast Minneapolis to Chisago City.  From the bar business to the hardware boating business.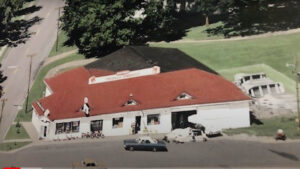 In 1968 purchased hardware in Chisago.  Two sons and two daughters came along.  Moved out onto the lake.  Lived the life of Riley.  We had a business to pay for and take care of the family.
I could not get my two sons to count bolts or weigh out nails in the hardware store.  We had a minnow tank in one end of the building.  They were always over there with the minnows and sporting goods arranging and refining and restocking.  If I was trying to find the kids, they were always in the sporting goods department.  On weekends they would sleep overnight on the floor to make sure they were there to sell minnows to anybody that knocked on the door no matter what time of the morning it was.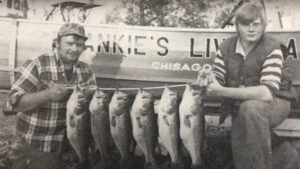 As the years went by, they kept increasing the size of the bait store.  Low and behold they wanted to add boats.  We took on a boat line.  Frankie got in his car with his briefcase and went to different hardware dealers and let them know they could buy a boat from Chisago Hardware.  Dealers began to buy boats.  It went so well that we began to take on different lines.  Over the years we handled all the boats; Skeeter, Lund, Champion, and Rangers.   As the years went by, we had to drop lines because they took up too much space.  After all the years we decided to keep the best of the best Ranger.  Nicer finish, good craftsmanship, boats ran well, they were the top of the line.  Good company to work with.
We had a lot of good people we took fishing.  Baseball players, football players, hockey players.  Billy Martin the Twins Manage would come up every summer.  Frankie would take them to the private secret lake.  They had a ball.  Randy Moss, Chris Carter, Kurby Pucket, Ron Davis were all customers, and all came up to fish the secret lake.  I always told him you don't ever want to lose a customer.  They are too hard to get back.  He has to keep the business going because he has two sons and grandsons, so he has to keep it going.  We want to keep it going for another 50 years.
I have gone from a bartender to a retired businessman in Chisago.
We had one wall of fishing tackle.  Now you have a whole building full of tackle.
We had seven boats laying in the grass.  Now you have 50 inside the big, beautiful showroom.
Now I can sit back and not worry about a thing.  It's up to them to carry on.
The next 50 is up to Frankie.  Take care of your customers and always do what you say you are going to do.
Frank Dusenka Senior passed away on January 9, 2021.
YouTube Video address: